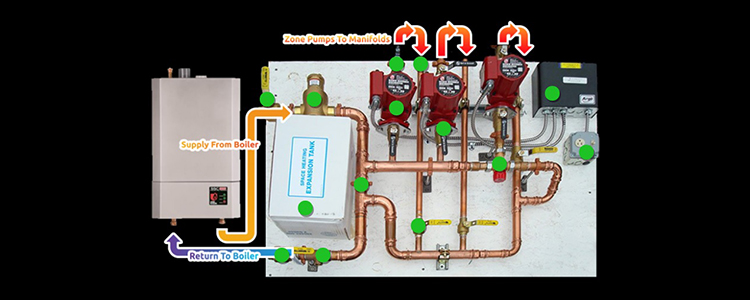 Krell Distributing offers the following for your project:
System design
System layouts
Pre-fab zone board
Unlimited tech support 
A complete system or any part of your system -- DIY or partner with a professional

Get Everything You Need From Us For Your DIY Radiant Floor Heating Project

Our complete radiant floor heating systems include everything you need to install your in floor heating system yourself. We make it easy by offering a free installation manual to follow for the layout of your heating system. We also offer Affordable Radiant Floor Heating Tools for Sale and Free Unlimited Tech Support.
Buying from different sellers could mean getting critical components of your DIY radiant floor heating system at different times, delaying your project. These different components may also have compatibility issues. Will the PEX tubing you get from one source work well with the boiler you got somewhere else? How will your pump module work with a boiler that's not packaged to work with the module?

Krell Distributing eliminates this type of guess work, allowing you to focus on putting your DIY radiant floor heating system together rather than forcing components to work together. 

Additionally, Krell Distributing offers our customers Affordable Radiant Floor Heating Tools for Sale and free unlimited tech support, giving you the materials and knowledge you need to complete your project. 

DIY Radiant Floor Heating Is Made Easy With Our Pre-Fab Pump Modules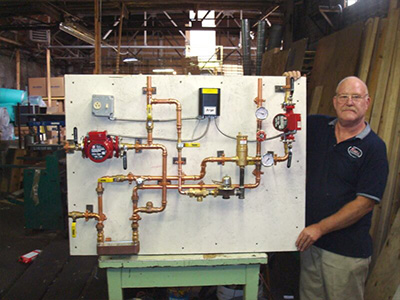 In addition to supplying you with essentially everything you'll need for a radiant floor heating project, our experienced professionals make it even easier for you by providing a custom pre-fab pump module. The pump module is key to your radiant floor heating system working, and each pump module is configured differently depending on what you're trying to do with your project. 

Our experienced team works with each client to identify the specific needs and goals of their project. Once we've discussed your plans, our team creates a custom pre-fab pump module for your DIY radiant floor heating system. This eliminates several steps in the process for you, making your project easier and empowering you to get your project completed faster. 

Get Your Radiant Floor Heating Boiler From Us

Krell Distributing has a wide selection of boilers for sale. Our inventory of boilers include gas boilers, LP boilers, oil boilers and electric hot water boilers. 

Find the boiler that's right for your project below.

Browse Boilers for Sale
Krell Distributing Is Your PEX Tubing Provider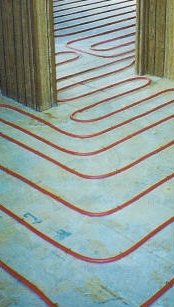 PEX tubing serves as the distribution system for your radiant floor heating. The PEX tubing is installed across the area that is intended to be heated, providing a flexible and durable method of distributing heat evenly on the surface. 

Contact us to request a quote on PEX tubing from Krell Distributing. 


Know How To Install Radiant Floor Heating With Our Installation Manual
As well as providing you with the PEX tubing, the boiler, the pre-fab pump module, Affordable Radiant Floor Heating Tools for Sale, free tech support from our experienced experts and other materials you'll need for your project, Krell Distributing offers customers a free radiant heat installation manual. This installation manual is your in depth guide for how to install radiant floor heating. 

Download your copy of our free installation manual today.

Download Install Guide
If You Want DIY Radiant Floor Heating, Not a Headache, Contact Us Today

Only Krell Distributing makes DIY radiant floor heating this simple. Ready to get started on your project?