RELIABLE AND AFFORDABLE RADIANT FLOOR HEATING PRODUCTS
At Krell Distributing, we carry a wide-range of quality radiant heat products. We are happy to serve nationwide. We are also fully capable of helping customers from all over the nation. See some of our radiant heating supplies inventory below.

Speak to a System Expert Now

Legend M-8200 Precision Manifold
Modular Radiant Manifolds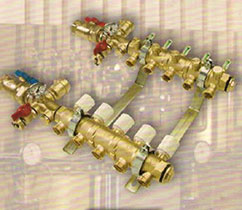 Perfect seal-guaranteed
Easy assembly
Balancing valves with memory stop
Can be mounted in any orientation
Optional air vent and fill purge valve available
2 GPM flow metersSpeak to a System Expert Now
Economy Model Manifold
Some minor assembly required.
Price determined by number of circuits.

Oxygen Barrier Tubing
1/2 inch PE-RT
MADE IN USA
300, 500 and 1000 foot rolls available!
Benefits of using 1/2 inch PE-RT Oxygen Barrier Tubing
Protect your radiant heating system. The five-layer design of HEATFLEX pipe ensures that the EVOH oxygen barrier is protected and remains intact, safeguarding your radiant heating system.
Save time and money. HEATFLEX pipe is highly flexible even at low temperatures, which improves installation efficiencies. No un-coiler required!
Reduce pressure loss and deposit formation. HEATFLEX pipe has excellent surface smoothness.
Recycle. Unlike any other heating pipe, HEATFLEX is fully recyclable and is made in the USA
Trust it. As with all , HEATFLEX comes with a limited lifetime warranty, including a per foot labor replacement cost and reimbursement for any damage.
Reflective Foil under wood floor insulation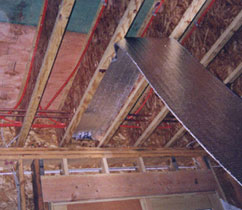 Reflective bubble insulation for use under tubing in wood floor installation
16″ X 125″ Roll
Insulation/Vapor Barrier for Radiant in Concrete Application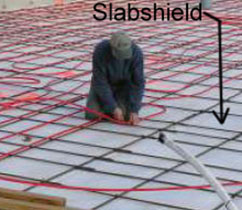 For Under Tubing In Concrete Floor Installation
500 Sq. Ft Roll
Slab Shield Is Preferred Over Foam Insulation Since It Has A Core Of Reflective Aluminium, Which Radiates Up.
Climate Panel System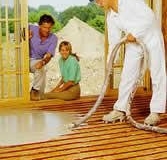 For Installation Of Tubing Over Existing Floor.
Product Is 1/2″ Thick And Has Heat Transfer Plates Attached.
Carpet And Pad, Tile Or Hardwood Flooring Can Be Installed On Top Of The System
Learn more about aluminum composite panels

Radiant Above Floor Light-Weight Concrete (Gypcrete)
This Lightweight Concrete Product Is Applied Over The Radiant (PEX) Tubing
With This Application The PEX Tubing Is Stapled Directly To The Sub-Flooring
The "Gypcrete" Is Then Pumped Directly Over The Tubing At A Thickness Of 1-1/4-1-1/2 Inches
On Wood-Framed Floors, Some Structural Reinforcement May Be Necessary

Licensed Contractors Are Available Who Are Trained To Apply This Product.

Pneumatic Clip gun
Utilizes Both Styles Of Clips.
RB Stand-Off And RB Flush Mount Clips Can Be Applied For Radiant Heating And Potable Water Installation
Saves Time
Uses The Power Of Air To Get The Job Done Accurately And Quickly
Cannot Damage Tubing.
No Chance Of Piercing, Compressing, Or Overdriving The Nails Of The Clips.
Lightweight And Easy To Use.
Krell Distributing Will Furnish This Clip Gun At No Charge For Your Installation (With Deposit)
Learn more about pneumatic nail guns
PEX GUN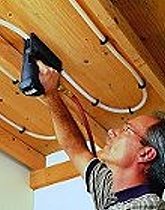 By far the quickest and least expensive way to adhere PEX pipe to rebar for Radiant Floor and Snow and Ice Melt installations. 5 times faster than manual tying without the risk of health problems. One hand operation and at only 3.2 lbs, this is the lightest tool of its kind.
Fast, easy, work-saving! Tool secures PEX to wire with compatible Malco galvanized steel clip. The lowest cost per connection for laying out a PEX in-floor radiant heating system on a wire grid. An auto-feed magazine with a 25 clip capacity won't slow you down. RedLine Handles by Malco offer maximum leverage with a natural fit and feel for the way you need to work. The PEX To Wire Tool is compatible with Malco No. PC1EV Clips.
Utica Indirect Hot Water Heater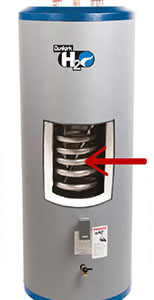 Indirect Fired Hot Water Heater
Uses Hot Boiler Water To A Coil In The Tank To Heat Water In The Tank.
Stainless Steel Coil
41 Gallons
5-Year Warrantee
Most Popular Model
Recharge 41 Gallons In As Fast As 12 Minutes!

Amtrol Fill-Trol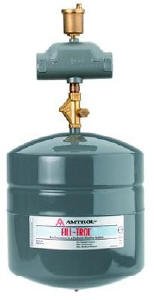 The AMTROL FILL-TROL® System Consists Of A Specially Adapted EXTROL® Pre-Pressurized, Diaphragm-Type Expansion Tank, And The FILL-TROL, A Specially Designed, Automatic, Fill Valve.
Provides Accurate System Make Up
Eliminates Need For A Separate, Automatic Fill Valve
Fully Adjustable Up To A Maximum Working Pressure Of 100 Psig
Factory Pre-Charged To 12 Psig; Tank Pressure Controls System Fill


Erie Zone Control Valve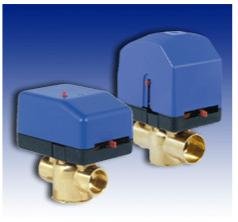 Erie Has Been An Industry Leader In Temperature Control Since 1943, Providing Modern Environmental Comfort In Commercial, Industrial, And Residential Buildings Worldwide.
Erie Is A Member Of The Invensys Building Systems Group.
Erie's Motorized Hydronic Valves, The Poptop® Provide Reliable And Easy Installation For A Variety Of Heating And Cooling Applications.
Installation Is A Snap With Easy, One-Handed Removal Or Engagement Of The Actuator To The Valve Body. Push A Button And Lift. It's That Simple.
B&G Circulator Pump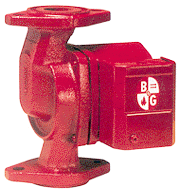 High Starting Torque For Dependable Seasonal Start-Ups (Up To 80% More Than Competing Circulators)
Unique B&G Duraglide Bearing System Assures Years Of Trouble-Free Start-Ups
Closed Impeller Design Improves Operating Efficiency
Backed By B&G's Representatives And A 3-Year Warranty—The Best In The Business
Self-Cleaning Particle Shield Protects The Shaft And Bearings From System Start-Up Debris
One-Piece, High-Nickel Stainless Steel Stator Can Isolate The Stator From System Fluid And Maintain Precision-Bearing Alignment For Longer Bearing Life
Carbon Bearings, Diamond-Like Ceramic Shaft And Generous Clearances Are More Resistant To Lime, Chloride, And Oxide Build-Up
Faceplate And Rotor Sleeve Feature Corrosion-Resistant Stainless Steel Construction For Longer Life
Check-Trol Isolation Flow Control Flange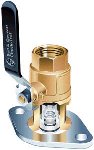 Check-Trol Is The Solution For Circulator Installations. Installing A Check-Trol On The Discharge Of The Circulator Gives You The Features Of A Flow Control Valve, Isolation Valve, And Companion Flange.
Another Advantage Of The Check-Trol Is The Minimal Pressure Drop, Especially When Compared To The Losses That Can Be Experienced When A Check Valve Is Installed Internal To The Circulator.
The Check-Trol Flanges Are Packaged With An Isolation Flange Of The Same Size To Create A Pair.
Cap Screws And Nuts Are Included

ICM Digital Thermostat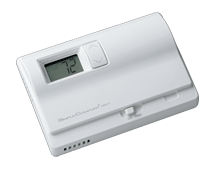 Elegant Design
Zoning System Compatible
Adjustable Differential
Large LCD Temperature Display
Battery Operated
Precise Temperature Sensor

Buy Radiant Floor Heating Products
Come by our 20,000 square foot warehouse to see these radiant heat products and much more! Contact Krell Distributing today to get started on your next project.