See Why Radiant Floor Heat Is the Right Choice For You
What is Radiant Floor Heating?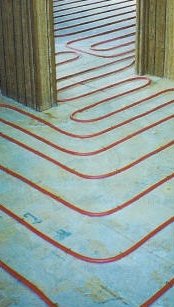 In-floor pex tubing
The concept of radiant floor heat is simple: heated water is circulated through tubes under the floor. The floor becomes a massive radiator that warms people and objects in the room through radiant heat transfer, just like the sun. The tubing can be embedded in a concrete slab, or installed either on top of, or underneath, a wooden floor. Any flooring material can be installed over carpet, tile, or hardwood.
What is The History of Radiant Floor Heating?
The Romans realized the benefit of radiant heat. They used hot air to warm the floor of their bathhouses. In our times, as early as the 1950s, radiant floors were installed, circulating warm water through copper or steel pipes buried in concrete. These systems proved effective, but they had a short life span. The problems were mainly due to the expansion and contraction of the pipes. Advances were seen in the late 60s and early 70s with the introduction of flexible polyethylene tubing, promising to solve the problems encountered with copper and steel pipes. Although the tubing was flexible and the radiant heating installation was easy between wooden joists under the sub floor, the tubing failed to last and became brittle when exposed to high temperatures. It was the introduction of cross-linked polyethylene tubing (PEX) that created an ongoing radiant heating boom in Europe, and more recently in America. This flexible material is manufactured by chemically cross-linking the molecules of the plastic, producing tubing that has high temperature/pressure ratings, outstanding durability, and a proven reputation worldwide. Closed loop radiant heating systems require PEX tubing that contains an oxygen barrier. This type of tubing will not allow oxygen into the system, insuring long life of system components, such as pumps, valves, and the boiler itself. Krell Distributing carries Dura-PEX with or without oxygen barrier, which is replacing copper for use as hot and cold domestic house plumbing. Krell also stocks Dura-PEX-AL aluminium type barrier PEX, made popular by Kitec/ Ipex brand. All Vanguard's Dura-PEX carries a full 30-year warranty. At Krell Distributing, we have all the radiant heating supplies you need to complete your project. When deciding what type of PEX is best for your project, feel free to contact a Krell Distributing representative.
What are The Benefits of Radiant Floor Heating?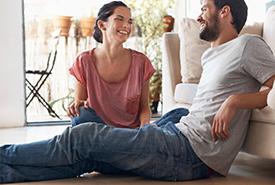 Low Operating Cost: Overall efficiency increases of up to 50% are possible with a correctly engineered in-floor heating system. The use of a standard hot water heater is popular, but fails to take advantage of the real energy savings of radiant heat. These savings can be realized using a "condensing hot water boiler." Krell Distributing offers some of today's most popular boilers of this type. With efficiencies of up to 96%, these boilers use outdoor air for combustion, using no air from the building. Most condensing boilers come complete with variable BTU input, built in outdoor reset, and hangs on any wall, allowing for installation in small areas. Other variables, such as the use of aluminum heat transfer plates, different types of under-floor insulation, water temperature, and tube spacing can affect system performance.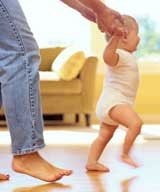 Comfort: The feet are the thermostats of the body. Cold feet make your whole body feel cold; warm the feet and you feel more comfortable. But that's just the beginning. Homeowners with radiant panel floor heat say they feel more comfortable at lower thermostat settings, typically 65 degrees as opposed to 72 degrees. This feeling is common and largely due to the constant 85-90 degrees surface temperature of the floor itself.
Decorating Freedom: The tubing is invisible. There are no visible heating outlets like registers, radiators, or baseboard heaters. Furniture placement is not an issue, and decorating options are unlimited. Keep your floors warm with a radiant floor heat system from Krell Distributing!
Flexibility: Radiant in-floor heating systems are adaptable to either new construction or retrofit.
Quiet: There is no noise from pinging or hissing radiators or blowing fans.
Healthy: Since the radiant system operates at low temperatures, the air is not as dry as with warm-air heating. With warm-air heating, the air is circulated back to the furnace, subjected to 400-degree temperatures, which drives the moisture out of the air. Forced air systems increase the amount of air changes, causing cold dry air to enter. This problem is remedied with under floor heating, since no indoor air is used for combustion. Bathroom spills evaporate, and garage floors stay free of snow and ice. These conditions add up to a clean and healthy indoor environment.
Temperature Control: With radiant tube heating, you can have a thermostat in every room if you wish. A typical system will have the basement on one thermostat (zone), the first floor on possibly 2-3 zones, the bedrooms and master bedroom suite may have their own zone as well. With no drafts and consistent temperatures throughout every zone of the house, even rooms with high or cathedral ceilings stay cozy. Homes with in-slab radiant heat offer a basement that's just as comfortable as any other room in the house.
Domestic Hot Water: An indirectly fired hot water heater is an option, and some condensing boilers come with on demand water heaters.
Contact Us For Radiant Floor Heating