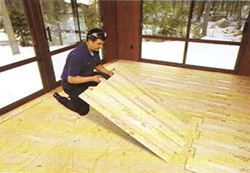 Climate panels are a faster, lighter, and neater alternative to poured concrete when you need a base for your radiant floor heating system. Krell Distributing is proud to offer this convenient solution to customers.

Aluminum Composite Panel Service Region
From our warehouse in Syracuse, we ship panels to New York, Pennsylvania, and all northern states, as well as contractors and handy homeowners across the nation.
Krell Distributing is your source for climate panels. Let us help you determine the optimal installation method for your new radiant floor system. Contact us today!
Lay down Climate Panels, ProPanels, or ACP Panels over subfloor or concrete.
Faster, Lighter and Neater than Concrete
Unlike Systems that require pouring, Climate Panels and ProPanels are designed for simple, efficient installation over a variety of construction types like concrete or wood. 
This dry method means:
Fasten panels to subfloor (stapling panels saves even more time).
No extra water introduced (every square foot of light weight concrete adds1/2 gallon of water
No extra weight, 5 times lighter than concrete, no need for structural upgrades
No scheduling hassles
Walk in Pex Tubing
No waiting for concrete to dry ( install top flooring material immediately after Climate Panel Installation)
Lower Profile floors (adds only 3/4″ or 5/8" to total floor thickness)
The ideal solution for application on top of existing wood or concrete floors. Added height of 5/8" ProPanel for standard 3/8" Pex pipe and 3/4" ProPanel for standard 1/2" Pex pipe.