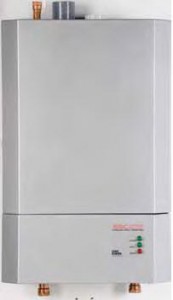 EnergyStar Rated 95% Efficient.
Just add up the savings:
95% AFUE
Sealed Combustion
*Built-in Outdoor Temperature Reset

(*A factory standard Outdoor Temperature Reset adjusts water supply temperature for best possible fuel economy based on actual seasonal conditions.)

The increased efficiency of the SSC could save you up to 40% on your heating bill each year.

If you pay $1,800 annually to heat your home, you could save as much as $720 per year.
SSC Stainless Steel Condensing Boiler